A Look Around the Corner: #MWC22 Highlights Innovation in Mobile Technologies and Industries That Depend on It
September 30, 2022
As attorneys engaged in telecom, media, and technology work, we are constantly thinking about not just where the law is today, but where it's going. Critical to that analysis is understanding how the information and communication technology (ICT) industry is changing, what innovations and paradigm shifts are coming down the pike, and what those developments could mean for the legal frameworks that currently govern our industry.
That's one reason I love getting to attend technology-focused conferences like #MWC22: the opportunity to hear from experts, industry disrupters, and thought leaders about the innovation that is occurring within – and because of – our industry. On Day 2 of this year's MWC, the "Everything Policy" track and other conference programming put a bright spotlight on technological advancement and thinking about the future. While many of the speakers focused on the innovations themselves, and how those innovations present new opportunities for telecom and tech companies like our clients at Wiley, my focus is on what these developments might mean from a legal and policy perspective.
Here are just a few of the innovations, trends, developments, and predictions that have my legal wheels turning this week:
A shift toward enterprise networks and partnerships. In the Day 2 morning Keynote, @AWS's Adolfo Hernandez identified a couple of related trends: growing consumer demand for private 5G networks, and the significant opportunity for partnerships between telecommunications companies and enterprise customers. Hernandez cited market estimates that enterprise use will comprise anywhere from 25-50% of the $5.6 trillion ICT industry. However, he noted, enterprise customers do not want standardized, cookie-cutter telecommunications service, but rather partnerships and innovation. @ServiceNow's Chris Bauschka underscored this point on the Technology Shaping Our Future panel, explaining that to actually make the most of 5G, "it's going to take more than connectivity" – telecommunications providers will need to be able to solve business problems with innovative solutions, and to create ecosystems with those enterprise partners. Speakers in both of these sessions highlighted the many existing and future use cases of these partnerships, including smart stadiums with optimized mobile payments and ticketing as well as more advanced offerings such as real-time game analytics in augmented reality (AR); advanced transportation hubs; and expansive edge service offerings in growing areas like mobile gaming and social media, to name a few.
So, what does this mean from a legal perspective? A couple things spring to mind. First, if the future will feature pervasive adoption of private next-generation networks by private companies, but end users will depend on those networks to access businesses and experiences in the real world, will the private carriage / common carriage paradigm that has long dominated in the telecommunications regulatory space continue to provide the correct frame of thinking for regulatory obligations? Second, if telecommunications companies expand their capabilities beyond connectivity to meet a variety of business needs, will my clients subject themselves to additional regulatory frameworks and legal obligations?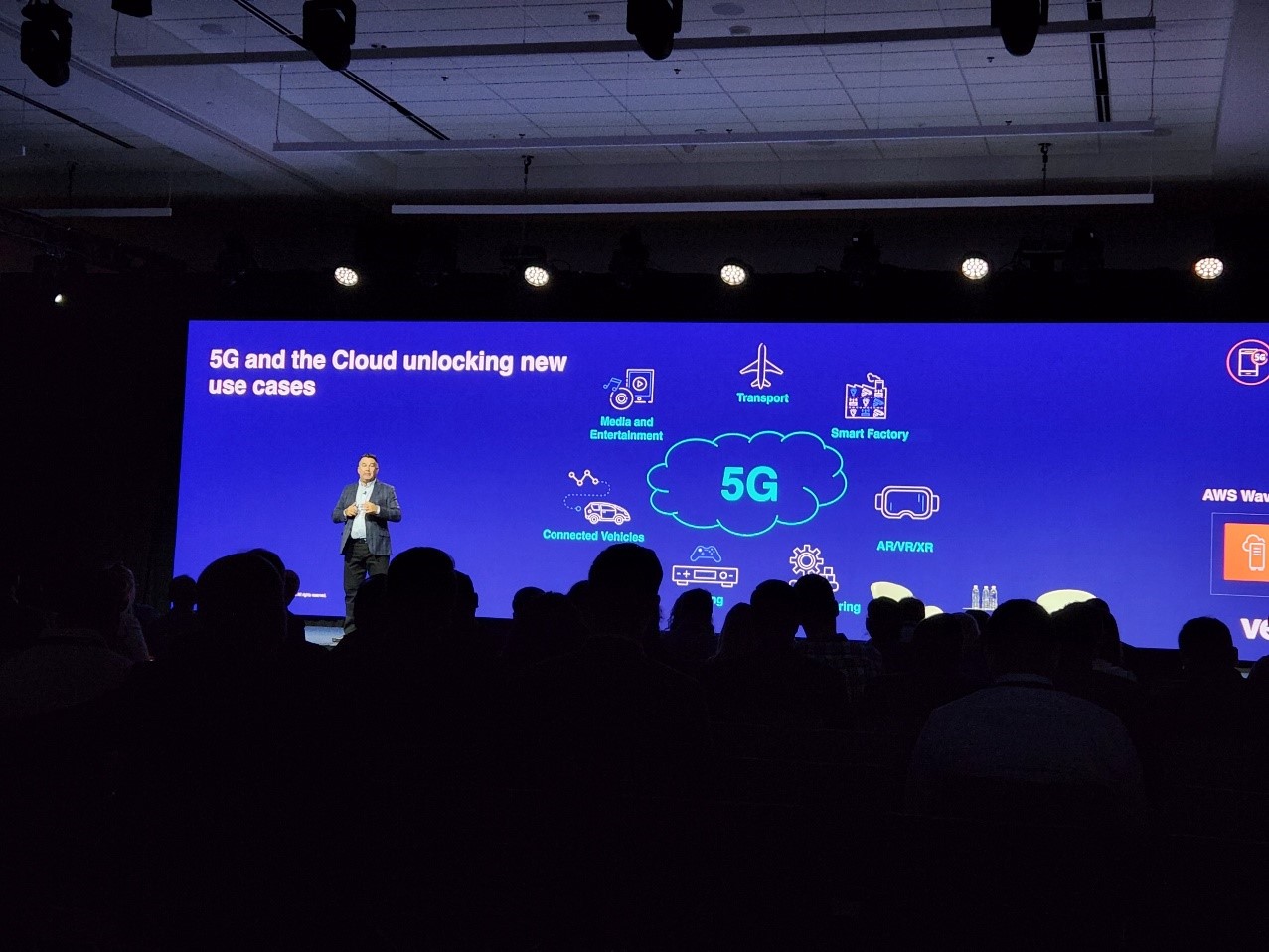 Adolfo Hernandez discusses the range of 5G use cases made possible by partnerships between service providers and enterprise customers.
Augmented reality becoming actual reality. Across the Day 2 sessions, speakers emphasized the extent to which advancements in technology and connectivity are converging on a new reality. Keynote speaker Zach Katz of @FaZeClan and panelist @Meta's Noah Choi highlighted the extent to which modern entertainment is interactive, whether it's gaming (already a larger industry than the music and movie industries combined!) or content creation, a new entertainment paradigm in which individual creators are flourishing and fans seek to interact rather than passively watch the content. Choi, as well as Keynote speaker Alex Barkaloff of @XLA, touted the social and economic promise of the metaverse (or for Barkaloff, metaverses, plural). Panelist Mischa Dohler of @Ericsson discussed the way in which technologies such as 3D lightfields, haptic wearables, and smart contact lenses will altogether revolutionize our perception of reality. And Beverly Rider of @NEOM (whose mission includes construction of the ambitious OXAGON, a sustainable city the size of Belgium floating in the Red Sea) emphasized the need for "smart" technology to transform into "cognitive" technology, which means that connected IoT products, sensors, and other solutions are not just tools available to us but the fabric of our everyday life.
The idea of living in a fundamentally different, technologically-transformed reality raises more legal issues than I could possibly address here (and I'm sure my colleagues engaged in privacy, fintech, and cybersecurity work have a lot to say on this topic). But one area heavily implicated by these developments is technological accessibility. Indeed, it's an open question in the courts as to whether even a basic website is subject to the Americans with Disabilities Act (ADA) as a "place" of public accommodation; what about a wholly virtual place? And under the Communications and Video Accessibility Act (CVAA), an accessibility statute administered by the Federal Communications Commission (FCC), the most "advanced" technology included within the definition of "advanced communications services" is interoperable video conferencing. As AR continues to advance, it will be critical to think about how accessibility law should adapt to ensure that everyone can navigate our new reality.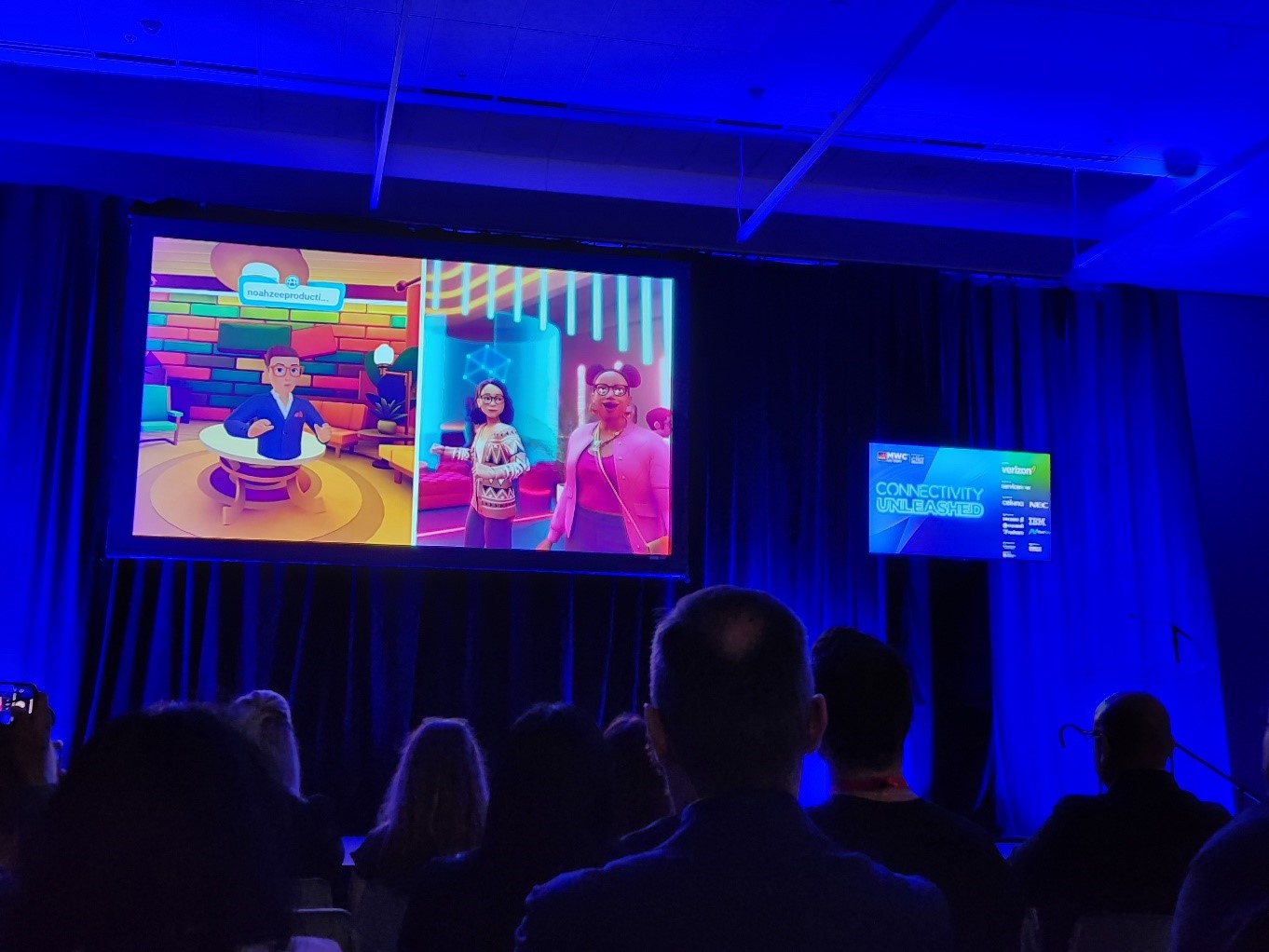 Meta's Noah Choi gives a portion of his presentation from the Metaverse.
Spectrum demand. The need for spectrum to keep pace with technological progress is by no means a new phenomenon. However, new technology brings a new iteration of that age-old problem. Several panelists and speakers emphasized the tremendous amount of data transmission that emerging, expected, and aspirational technologies will require. As my colleague Scott Delacourt noted in his blog post on 5G takeaways from Day 1 of MWC, "the spectrum coffers are empty. The spectrum pipeline needs replenishing and there is an urgent need for renewed FCC auction authority and identification of frequency bands to fill the spectrum pipeline for the next 10 years." Long-term thinking on spectrum and other potential barriers to technological development and deployment will be critical to realize the bright future that MWC's thought leaders envision.
***
Are you at #MWC22 this week? We'd love to catch up! Reach out to anyone in the Wiley delegation: Megan Brown, Scott Delacourt, Josh Turner, Edgar Class, Charles McKee, Kat Scott, Sara Baxenberg, and Steve Conley. Stay tuned to Wiley Connect for more updates from the conference!
Authors
Categories
Practice Areas