Book Event: The Internet in Everything: Freedom and Security in a World with No Off Switch
February 13, 2020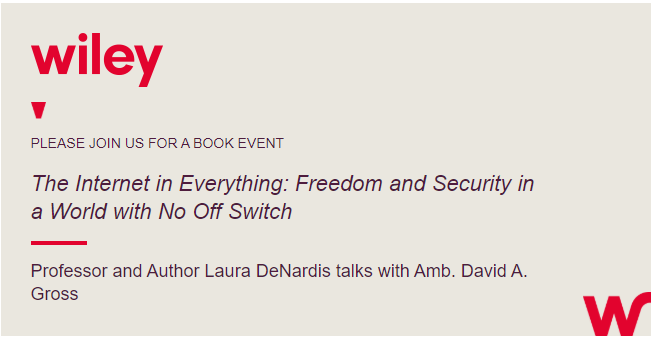 The Internet of Things (IoT) has been heralded as the next technological advancement poised to fundamentally change how we go about our daily lives. However, with a more interconnected world, how will nations interact and what national security concerns will likely arise? Join us for a conversation with Laura DeNardis, author of The Internet in Everything: Freedom and Security in a World with No Off Switch, and Ambassador David A. Gross, co-chair of Wiley's TMT Practice. Professor DeNardis will also take audience questions, and a cocktail reception will follow.
EVENT POSTPONED TO MAY 7, 2020
Date: Thursday, May 7, 2020
Where: Wiley
Main Conference Center
1776 K Street NW
Washington, DC 20006
Registration: 4:00 p.m.
Program: 4:30 - 5:30 p.m.
Reception: 5:30 - 6:30 p.m.